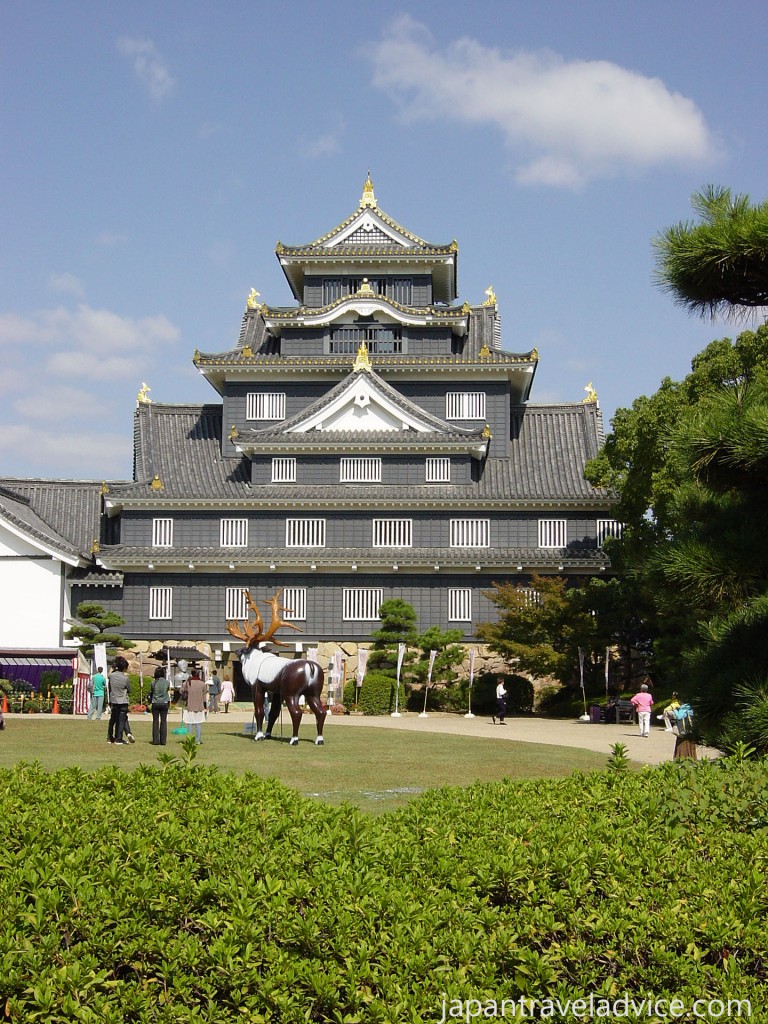 Okayama Castle also known as "u-jo" the "Crow Castle" is one of the must see castles in Japan. It was originally built in 1597, but the modern structure is a reconstruction. It is famous for its striking black colour due to the black planks covering the castle's outer walls. Rumour has it the colour was chosen by the daimyo (domain lord) as a jest at Himeji Castle, which is pristine white. It is classified as a Hilltop castle.
The castle is located on the Asahi River, which served as a moat for the castle and just across the river is the famous Korakuen Garden.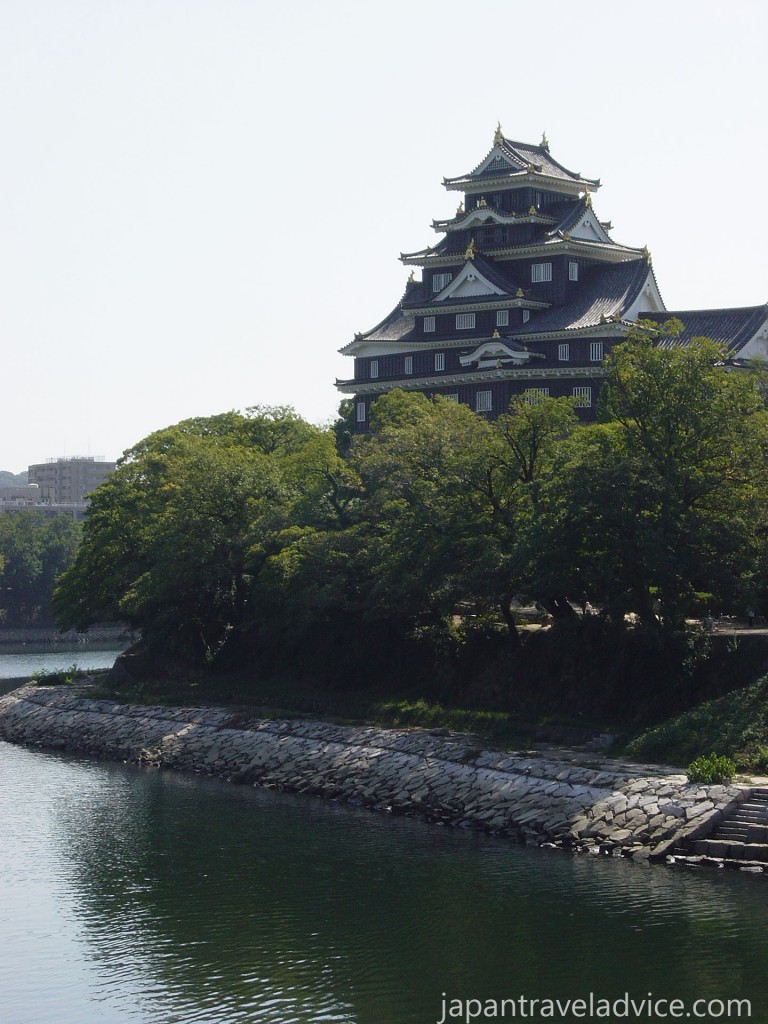 What to See at Okayama Castle
The Six Story Main Keep
The main building of Okayama Castle is the three tiered six story keep, which is a reconstruction of the original. The interior of the keep is modern and there is a display that outlines the history and development of the castle. An interesting fact is the walls were painted in Japanese lacquer for fireproofing, giving the castle its striking black colour and its name of the "Crow Castle".
Originally the Main Keep featured gilded roof tiles, but today only a few parts of the castle's roof are covered in gold.
Tsukimi Yagura
The Tsukimi Yagura (Moon Viewing Turret) is the only original building that remains from the original construction of Okayama Castle. It was built in 1620 by the 4th daimyo Ikeda Tadakatsu. It is designated as an important cultural asset of Japan.
Akazu no Mon Gate – Unopened Gate
The Akazu no Mon Gate is located at the bottom of a flight of stone steps, which led to the daimyo's residence.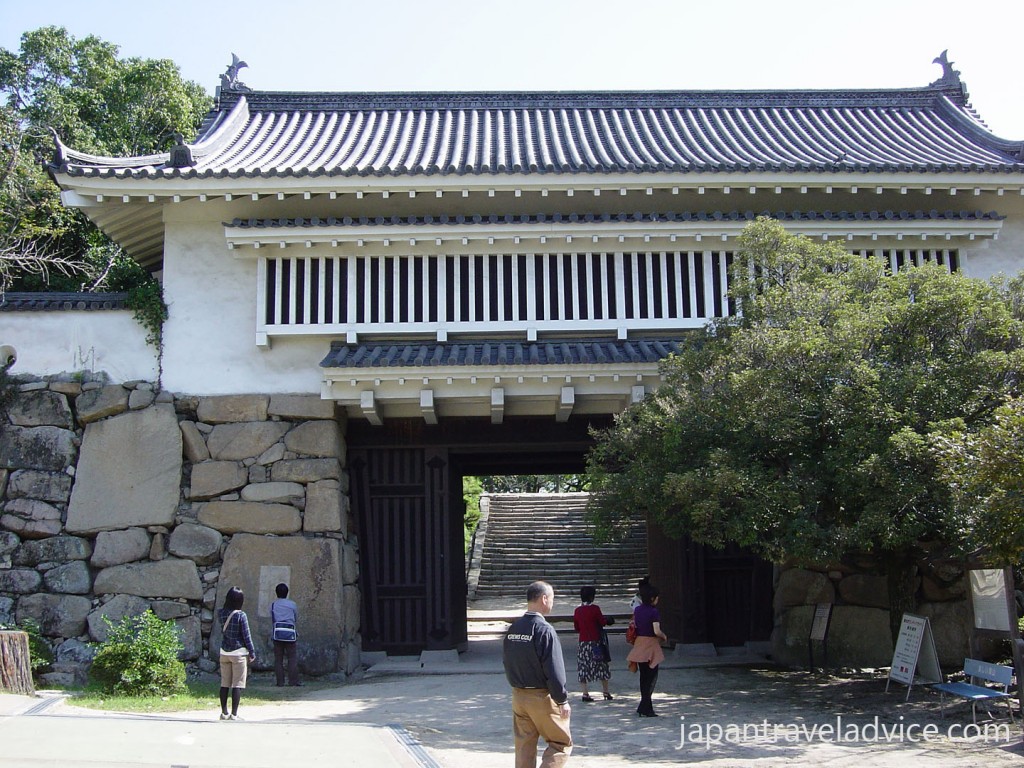 History of Okayama Castle
Construction began on Okayama Castle in 1573 by the daimyo Ukita Naoie and was completed in 1597 his son Ukita Hideie. In 1600 during the Battle of Sekigahara, Hideie sided with the ill-fated Toyotomi Clan and was captured by the victorious Tokugawa Clan. The castle was given to Kobayakawa as spoils of war and later passed to the Ikeda Clan who ruled until the Meiji Era, and added Korakuen as a private garden. Like many other great castles in Japan it was destroyed during WWII and was rebuilt in 1966. Only the tsukimi-yagura (moon viewing turret) survived the destruction.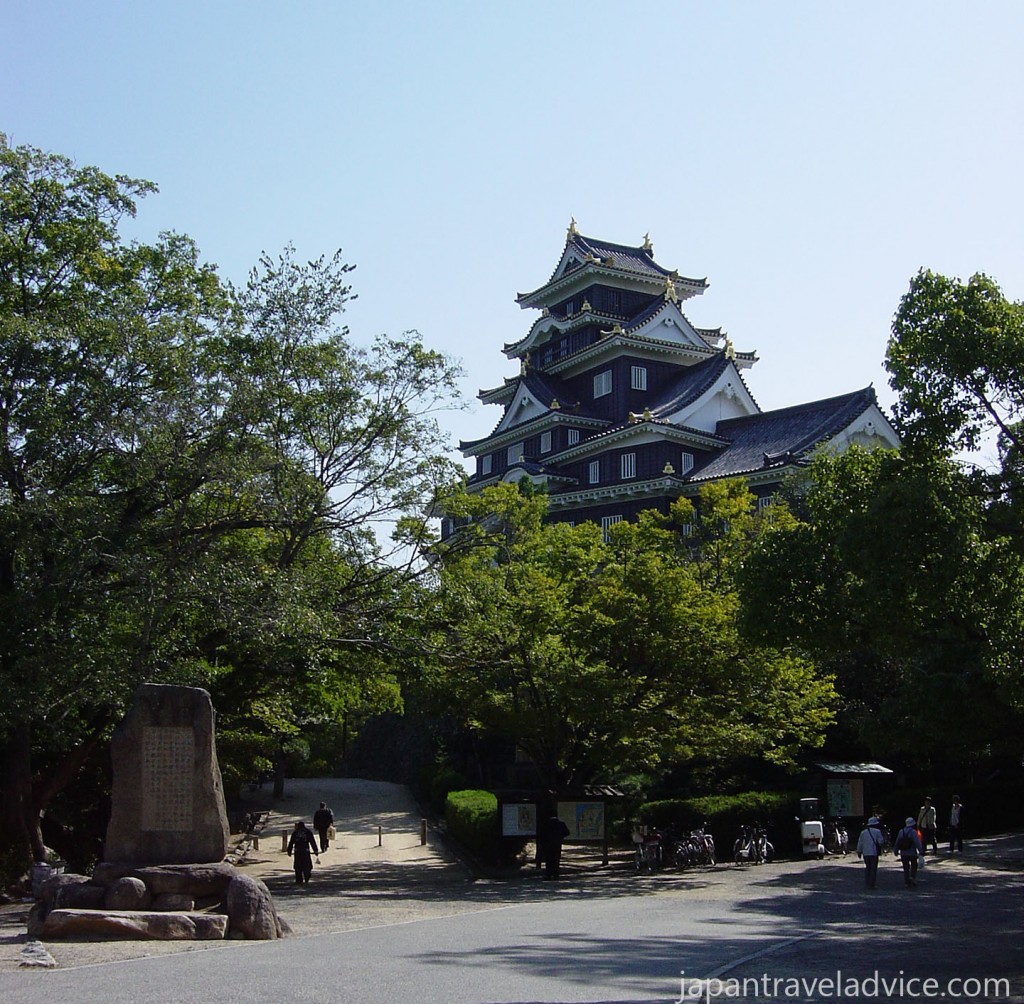 Opening Hours
Okayama Castle is open from 9:00 am to 5:00 pm
The castle is closed from December 29 to 31
Entry Fee
Admission to the castle is 300 yen for adults and 120 yen for children
How to Get There
It is about a 25-30 min walk from Okayama Station
Address: 2-chome Marunouchi, Okayama-shi, Okayama
Best Time to Go
Okayama Castle can be visited all year round but is beautiful in spring with the cherry blossoms and fall colours of autumn.
Tip: Korakuen Garden is located close by and you can pick up a combined ticket for both attractions for 560 yen.
Photo Gallery