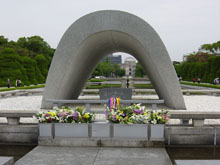 Name: Hiroshima
Region: Chugoku
Population: 1.2 million
Famous for: Beauty and Peace
Must see sight: Miyajima
Must try dish: Hiroshima-yaki
Hiroshima is a vibrant modern city that has rebuilt from the ashes of the past. Most of the main sights can be seen in one full day, with an extra day trip to Miyajima.
The must see places in Hiroshima include:
Genbaku Dome – The Atomic Bomb Dome is a symbol of the destruction and marks ground zero of the atomic bombs blast. It is one of the few surviving structures left from the bomb blast.
Hiroshima-jo Castle – Also known as the Carp Castle, it was reconstructed in 1958 and contains an excellent museum.
Hiroshima Peace Memorial Park – The park is dotted with memorials including the Cenotaph and Peace Flame.
Hiroshima Peace Memorial Museum – Located in the park complex, the museum tells the story of the bomb and its destruction. It is an emotional experience.
Mitaki-ji – The Three Waterfalls Temple is just outside of the city center and is a perfect escape from the city. It is beautiful, relatively uncrowded and pleasantly cool during the summer.
Miyajima – The Island of Shrines, features the cultural icon of Itsukushima jinga, a large torii gate that rises out of the sea.
Shukkeien Garden – A beautiful landscape garden located close to Hiroshima Castle. Beautiful in the spring with cherry blossoms and azaleas.