Kinki Travel Guide
The Kinki region is also commonly known as the Kansai area, and is the cultural and historical heart of Japan.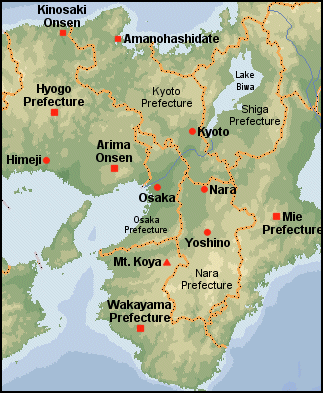 Suggested Itinerary
It is recommended that you spend at least 1-2 weeks to fully explore the Kansai area.
The Main Attractions of Kinki
Kyoto – Former capital and cultural heart of Japan with hundreds of temples, shrines and gardens
Osaka – Largest city in the Kansai area that is attractive with traditional buildings mixed in with modern architecture, it is famous for its food and bustling nightlife
Nara – Japan's first permanent capital with an impressive array of temples and eight Unesco World Heritage Sites
Kobe – Cosmopolitan city that is perched on hills overlooking a harbour and very picturesque
Yoshino – One of the most famous cherry blossoms spots in Japan with over 100,000 trees that blossom in spring
Koya-san – A complex of temples, monasteries and necroplois deep inside a mountainside forest.
Himeji – Home to Japan's most famous feudal castle, which is know as "Shirasagi" the White Egret due to its stately white form
Omihachiman – Omihachiman is an Edo Period town located close to Lake Biwa in Shiga Prefecture, and home to the famous Omi Merchants
Hikone – Castle town located on the shores of Lake Biwa, Hikone castle offers magnificent views over the lake
Ise Shima – Home to one of Japan's most sacred Shinto shrines, it dates to the 3rd century
Iga Ueno – A former castle town and home to the famous Iga ninja, it has an excellent ninja museum