Chubu Travel Guide
Chubu is located in the center of Japan's largest island of Honshu. The area is right between Kyoto and Tokyo, which makes it a great area to explore from either city.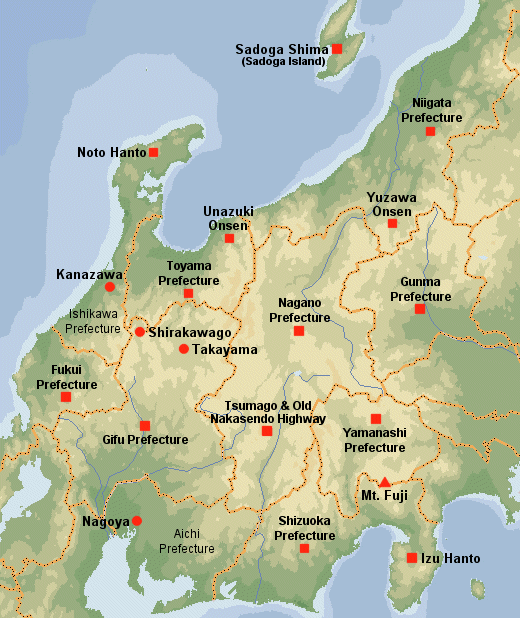 Suggested Itinerary
It is recommended that you spend at least a week in the Chubu area. The main attractions lie in the central and northern areas.
The Main Attractions of Chubu
Nagoya – Japan's fourth largest city and located right in the centre of Japan, it is the gateway to the Chubu region
Inuyama – Site of Japan's oldest castle, which is still preserved in its original state, it is located just outside of Nagoya
Gifu – Famous for its 1300 year old cormorant fishing and traditional craftsmen, the city is overlooked by Mt Kinka, which is topped by Gifu Castle
Gujo Hachiman – Beautiful town that sits in a mountain valley with an old merchant area and castle. The beauty of Gujo Hachiman has earned it the nickname of "Little Kyoto".
Takayama – One of Japan's best preserved old towns and a beautiful city tucked away between the Japan Alps
Shirakawa-go – Mountainous part of Gifu Prefecture known for its gassho zukuri farmhouses and a UNESCO World Heritage Site
Kamikochi – A popular mountain resort located in the Japan Alps and famous for its mountain scenery and hiking
Matsumoto – Famous for its beautiful original castle, Matsumoto-jo, which is one of the best in Japan, it is a great place to base yourself for exploring the Japan Alps
Kanazawa – A beautiful city that is rich in culture and history. Kanazawa has the best-preserved samurai and geisha districts in Japan. It is also home to Kenroku-en, one of Japan's best gardens and Kanazawa Castle