Okinawa Travel Guide
Okinawa prefecture is a group of islands in the far south west of Japan that stretch over 1000 km from the southern tip of Kyushu. It has a warm sub-tropical climate with unique natural and cultural attractions. It is famous for its beautiful beaches, excellent diving fantastic food and traditional culture.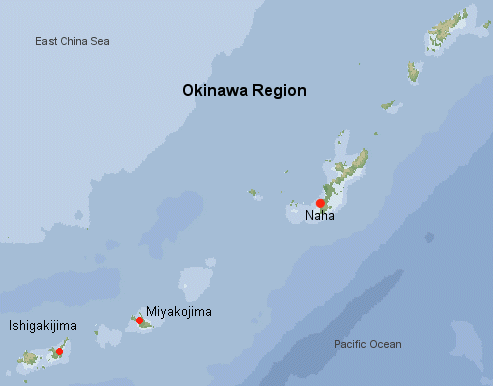 Suggested Itinerary
Okinawa is divided into 3 major island groups consisting of the Okinawa islands around Okinawajima, the Miyako Islands around Miyakojima, and the Yaeyama Islands around Ishigakijima. Most visitors use Naha on Okinawa Honto (Okinawa Island) as their point of entry to the region. From there you can explore Okinawa Honto followed by the outer islands.
The Main Attractions of Okinawa
Okinawa Island – The main island, also known as Okinawa honto is the largest and most populous island, containing the prefectural capital of Naha
Miyako Island – Located about 300km south west of the main island, it offers excellent beaches, diving and deep sea fishing
Yaeyama Islands – The southern most island group in the region, it is a popular spot for day-trippers with good beaches and excellent dive sites
Some of the must see sights in Okinawa include:
Shuri Castle Okinawa's best known sight is a reconstruction of the old royal palace of the Ryukyu kings. Originally built in the 15th century, it is a World Heritage Site.
Shikinaen Royal Garden Located to the south of Shuri Castle and a former resident of the Ryukyu kings.
Churaumi Aquarium This is Japan's best aquarium and a world class attraction in its own right. It has one of the world's largest tanks with huge whale sharks and manta rays.
Katsuren Castle The ruins of a former Ryukyu castle.
Nakinjin Castle The ruins of a former Ryukyu castle.
Zakami Castle The ruins of a former Ryukyu castle.