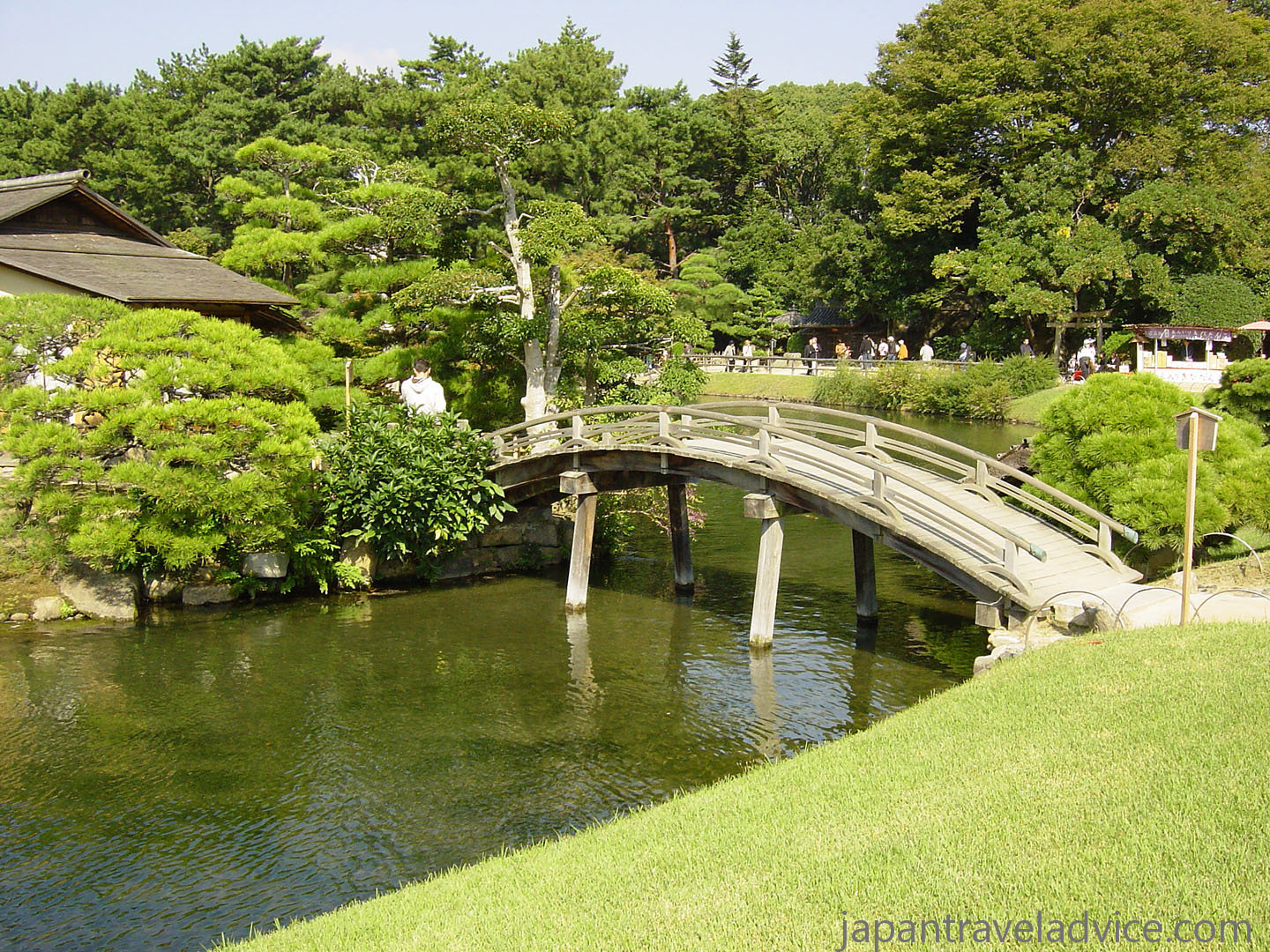 Korakuen Garden in Okayama is a beautiful Japanese landscape garden. It is considered to be one of the three most beautiful gardens in Japan. The others are Kenrokuen Garden in Kanazawa and Kairakuen Garden in Mito. Korakuen Garden was constructed between 1687 and 1700. The name "koraku-en" is taken from a Chinese proverb and means 'the garden for taking pleasure later'.
Korakuen Garden was designed in the Kaiyu Style (scenic promenade), where the gardens are landscaped around a large pond. This style presents the visitor with a new view at every turn of the path that connects the vast lawns, ponds, hills, tea houses and streams. It is famous for its expanse of flat lawn (rare in Japan), attractive ponds, running streams, pine trees, tea-houses and tea plantation and rice fields. You can also find groves of plum, cherry and maple trees.
The extensive lawn and various ponds create an uplifting and relaxing atmosphere that add to the charm of this magnificent garden. Korakuen Garden is located right next to Okayama Castle, which is incorporated into the gardens design.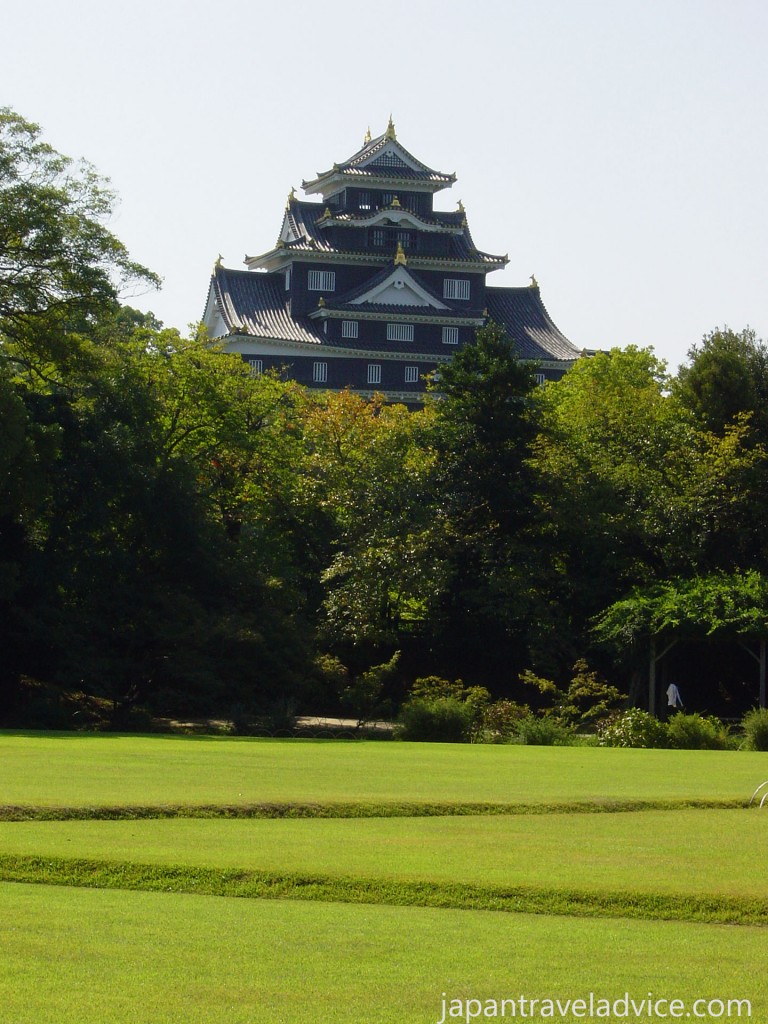 What to See at Korakuen Garden
Sawa no ike Pond
Sawa no ike Pond is the largest pond at Korakuen Garden. It contains the Naka no shima Island, Mino shima Island, and Jarijima Island.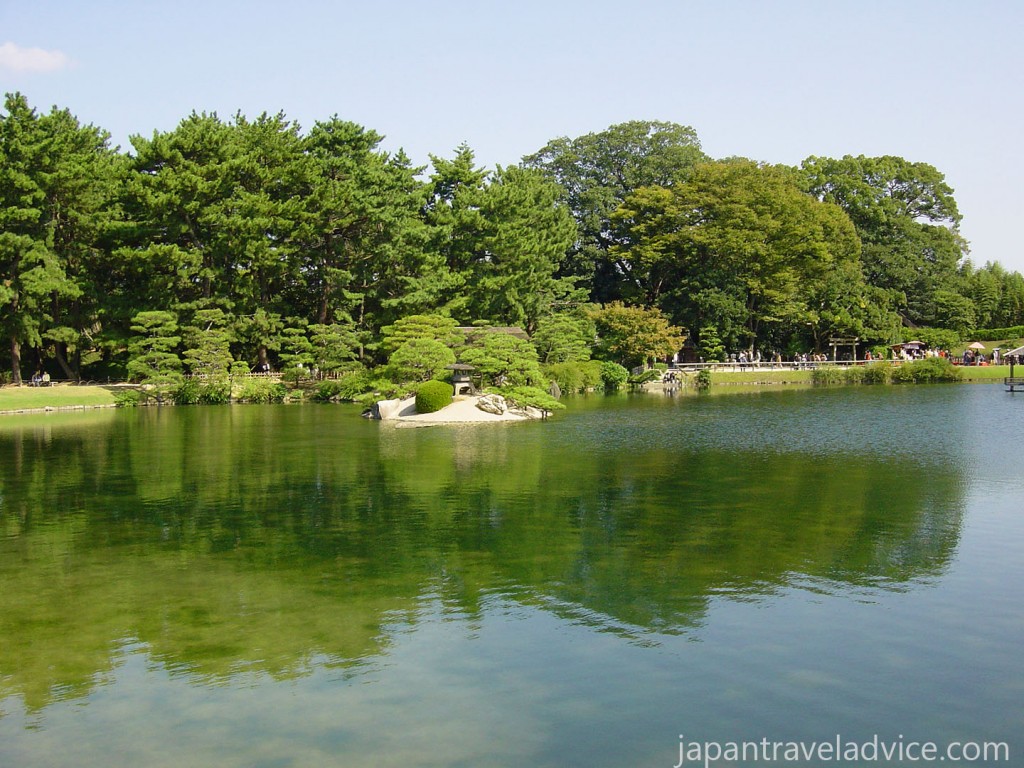 Naka no shima Island
Naka no shima Island features the Shima jaya tea-house.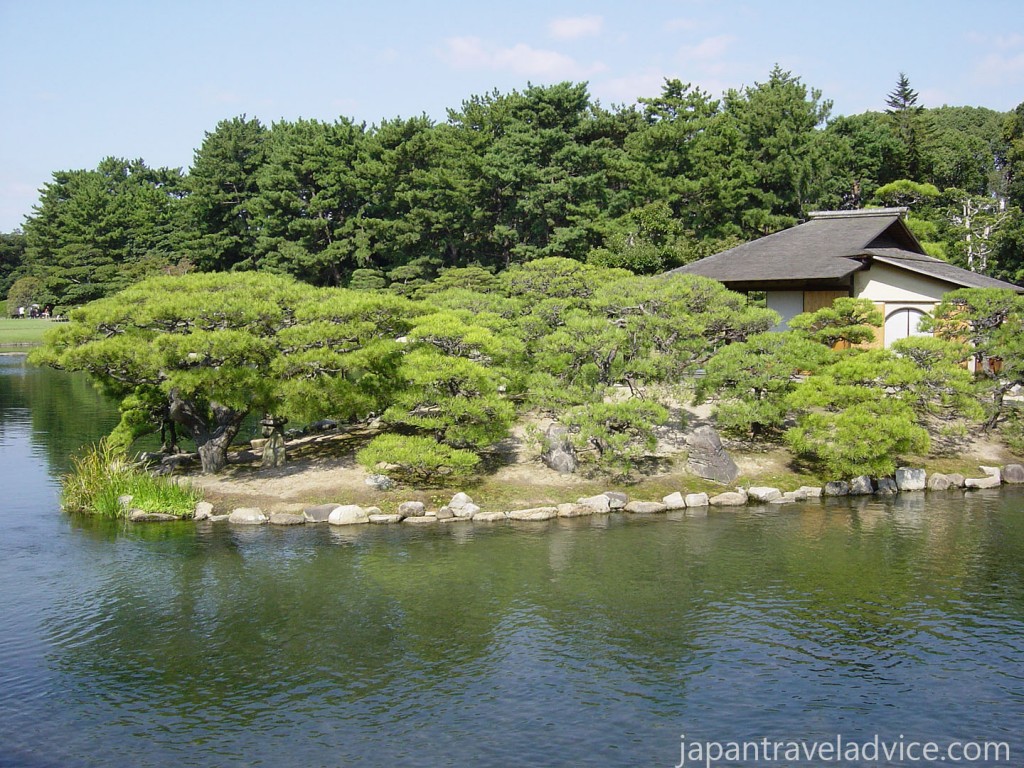 Jarijima Island
Jarijima Island features beautiful white sand and green pine trees.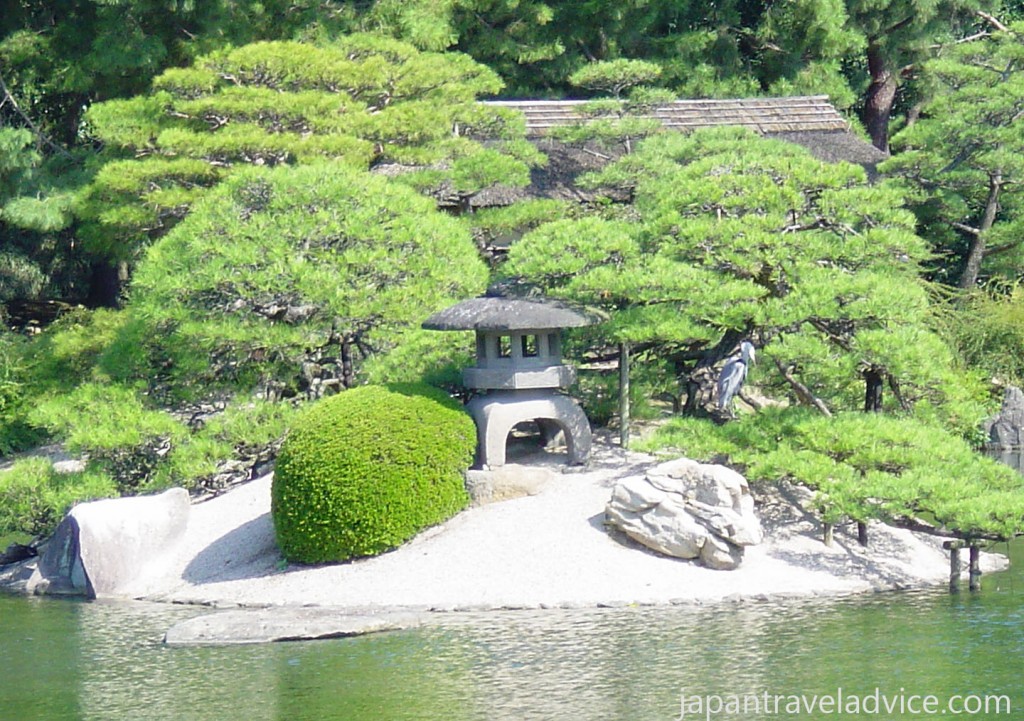 Ryuten Pavilion
The Ryuten Pavilion is a wooden pavilion that straddles a stream. It has a simple appearance and was used as a resting place for the daimyo on his strolls through the garden.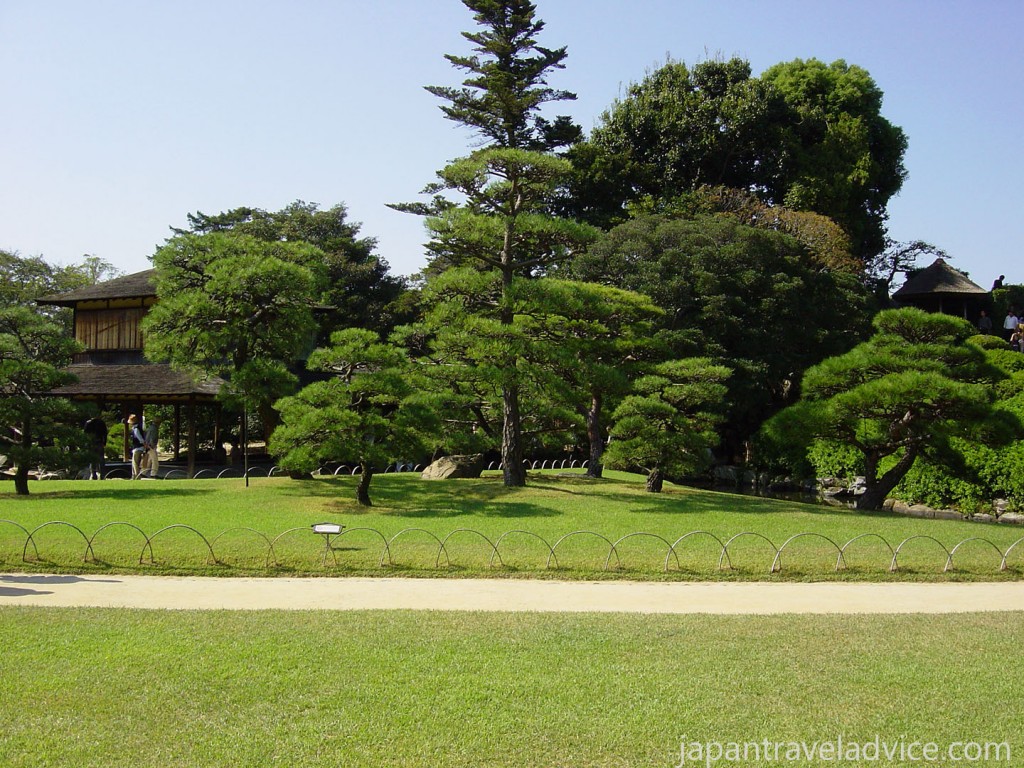 Seidan Rice Fields
The Seidan Rice Fields are just a taste of the rice fields that used to be spread through-out the garden. They were made at the end of the Edo Period.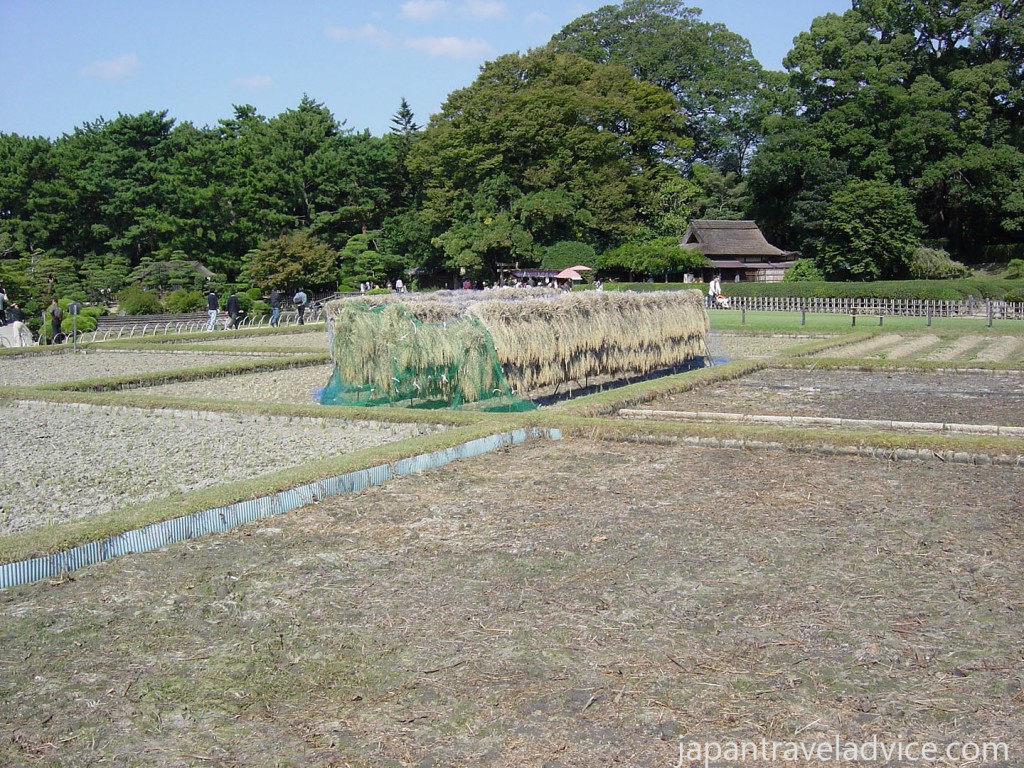 Tea Plantations
You can see rows of beautifully trimmed tea trees at the tea plantation. They are an ancient variety of tea with a slightly bitter taste.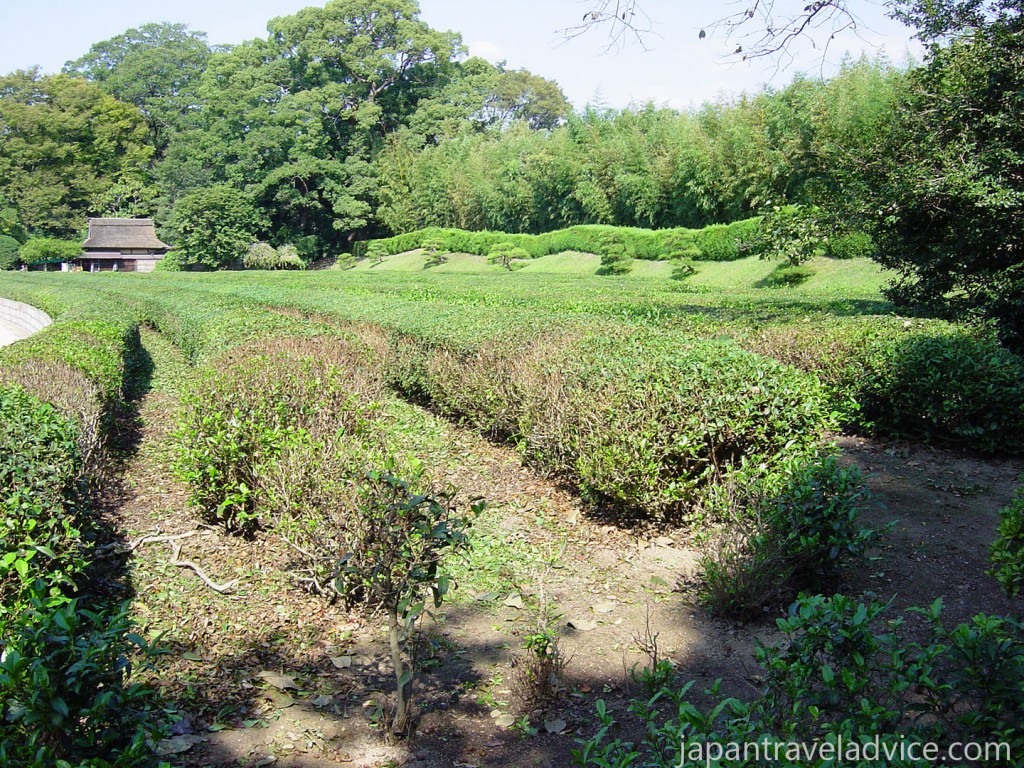 History of Korakuen Garden
Construction of the garden began in 1687 by the ruling Ikeda daimyo (domain lord) as a private garden to Okayama Castle. It was completed in 1700 and has retained its original appearance even today. There have only been a few small changes by the various daimyo over the years, and these can be seen thanks to the many Edo Period paintings and Ikeda Family records that were left behind. The garden is 11 hectares (28 acres) large. It was built mainly as a place for entertainment and receiving important guests.
The garden was open to the public in 1884 when it passed into the hands of Okayama Prefecture. In 1952, Korakuen Garden was designated as a "Special Scenic Location".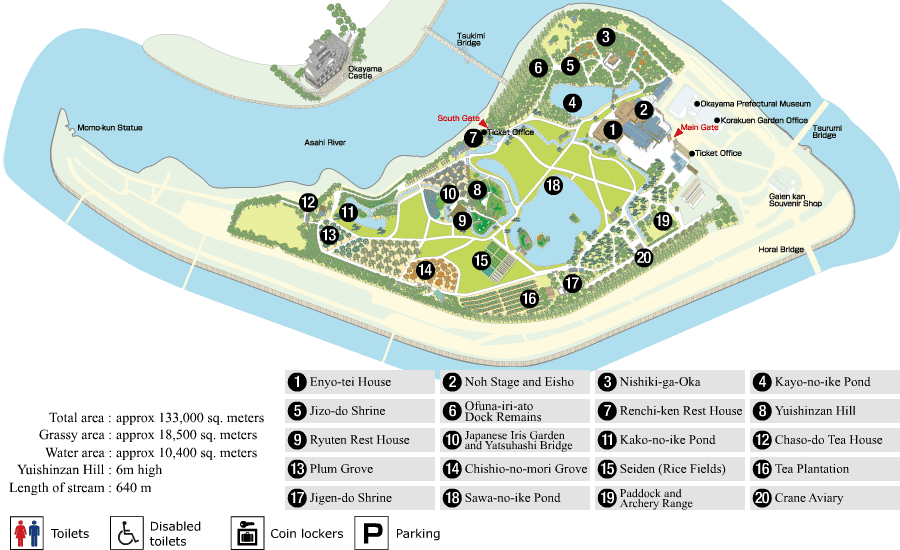 Opening Hours
Korakuen Garden is open from
7:30 am to 6:00 pm (April – September)
8:00 am to 5:00 pm (October – March)
The garden is open all year round
Entry Fee
Admission to the Garden is 400 yen for adults and 140 yen for children
How to Get There
It is about a 25 min walk from Okayama Station
You can take the Higashiyama tram from Okayama Station to the Shiroshita stop (140 yen), or take an Okaden bus from bus stand 5 at Okayama Station to Korakuen mae bus stop (150 yen).
Address: 1-5 Korakuen, Kita-ku, Okayama-shi, Okayama
Best Time to Go
Korakuen Garden can be visited all year round but is beautiful in spring with the plum and cherry trees and autumn with the maple trees.
Tip: Okayama Castle is located close by and you can pick up a combined ticket for both attractions for 560 yen.
The Garden is lit up during the summer for 2 weeks, which make them a spectacular sight.
Photo Gallery