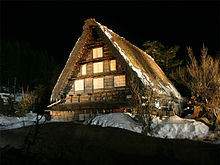 Name: Gifu
Region: Chubu
Population: 2 million
Famous for: Ukai (cormorant fishing)
Must see sight: Takayama
Must try dish: Takayama ramen
Gifu prefecture is called the "Heart of Japan" due to its location in the center of the country. Gifu largely consists of mountains and beautiful rivers. It is famous for hiking, skiing and hot springs as well as Hida Takayama and Shirakawa-go, its main tourist attractions.
The must see places in and around the Gifu area include:
Atsuta Jingu – Atsuta Jingu shrine located in Nagoya is one of the most sacred shrines in Japan along with Ise Jingu in Mie. The shrine is over 1,900 years old and houses the sacred sword of the emperor.
Gifu City – Largest city in Gifu prefecture and home to Gifu castle perched on top of Mount Kinka and Gifu koen below. Cormorant fishing (ukai) along the famous Nagara River is a must see during the summer.
Gero Onsen – Famous onsen resort town that is a popular tourist destination and compact enough to explore on foot. It is considered one of the Top Three Hot Springs in Japan.
Gujo Hachiman – Beautiful small riverside town that sits in a mountain valley with an old merchant area and castle. The beauty of Gujo Hachiman has earned it the nickname of "Little Kyoto".
Hida Furukawa – Small town north of Takayama famous for its well preserved old town. The streets are lined with traditional Japanese buildings dating from the Edo Period, which are built along the edge of the Seto River.
Hida Takayama – Former castle town with one of Japan's best preserved old merchant districts. It is tucked away between the beautiful Japan Alps.
Inuyama Castle – Japan's oldest standing castle, built in the mid 1440s. The National Treasure is still in its original state, which is a rarity in Japan, and is located just outside of Nagoya.
Mino – A city in Gifu famous for its preserved Edo period houses (Udatsu no Agaru Historic District) and Japanese washi paper, which is considered some of the best in Japan.
Nagoya Castle – One of the largest castles in Japan. Built in 1612 by the shogun Tokugawa Ieyasu, it is considered Nagoya's main attraction.
Ogaki Castle – The original Ogaki Castle was said to be built in 1535 by the Toki Clan who ruled Mino Province (now Gifu). The castle is famous for its four-tiered, four-storied donjon (castle keep).
Seki – City in Gifu prefecture famous for its traditional iron smiths, who produced some of the best samurai swords in Japan. It was known as one of the major sword making centers in Japan. It now produces high-quality domestic-use knives.
Shirakawa-go – A collection small villages deep in the mountains of Gifu Prefecture known for its gassho zukuri farmhouses. The largest collection of which are concentrated in the UNESCO World Heritage village of Ogimachi.