Kyoto Travel Guide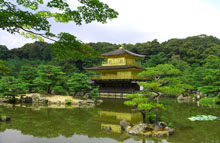 Name: Kyoto
Region: Kansai
Population: 1.4 million
Famous for: Culture and History
Must see sight: Kinkakuji Temple
Must try dish: Kaiseki-ryori
Kyoto, Japan's former capital is considered the home of culture and history in Japan with more than 2000 shrines and temples. Kyoto is a place you can still feel traditional Japan with ancient temples, colourful shrines and tranquil gardens. Kyoto is also home to an impressive 17 UNESCO World Heritage Sites. The absolute minimum amount of time you should spend in Kyoto is two days but more is highly recommended to fully experience what the place has to offer.
The must see places in Kyoto include:
Arashiyama – A popular scenic area on the outskirts of Kyoto that is famous for its beauty during the cherry blossom and fall season. A must see is the Sagano Bamboo Grove.
Byodoin Temple – Located in nearby Uji City, originally a villa converted into a temple, this is one of Japan's top attractions. The Phoenix Hall is its most spectacular feature.
Daigo-ji Temple – Founded in 874 this World Heritage site is one of Kyoto's most beautiful. The main temple grounds are located at a foot of a mountain.
Daikaku-ji Temple – Built in the 9th century as a villa for the emperor and later converted into a large temple. It contains many important cultural treasures as well as the beautiful Osawa Pond.
Fushimi Inari Shrine – A stunning shrine complex dedicated to the gods of rice and sake, today it is one of Japan's most popular shrines. A pathway wanders 4 km up the mountain and is lined with hundreds of red torii gates.
Ginkaku-ji – The Temple of the Silver Pavilion was constructed in 1482 as a retreat villa for the Shogun and then converted to a temple after his death. It is officially known as Jisho-ji and has one of the best Japanese gardens in Japan.
Gion – The famous entertainment and geisha district of Kyoto. Talk a walk along Hanami-koji street lined with traditional restaurants and teahouses. It is a great place to visit in the late afternoon or early evening to spot a geisha or maiko. The colourful shrine Yasaka Jinja is also located close by.
Heian-jingu – Heian shrine was built in 1895 to commemorate the 1100th anniversary of the founding of Kyoto. It is very impressive and has a spacious garden and large pond.
Kinkaku-ji – The Temple of the Golden Pavilion is one of Japan's best known sights. The original building officially known as Rokuon-ji was constructed in 1397 and the temple building is covered in gold.
Kiyomizu-dera – One of the most famous landmarks in Kyoto and first built in 798. The step approach to the temple is lined with shops selling local handicrafts and souvenirs, and the view over Kyoto from the famous wooden terrace is truly breathtaking.
Kyoto Imperial Palace – The Kyoto Imperial Palace also called Kyoto Gosho was the residence of Japan's Imperial Family until 1868.
Nanzan-ji – A retirement villa for Emperor Kameyama that was converted to a Zen Temple on his death in 1291. It has spacious grounds along with numerous subtemples.
Nijo Castle – The castle was built in 1603 as the official Kyoto residence of the first Tokugawa shogun. It is a place of inner beauty and architecture with some of the best gardens in Japan.
Philosopher's Path – Also called Tetsugaku no Michi, snakes 2km along the bank of a narrow canal to Ginkaku-ji. It is especially beautiful in spring with the cherry blossoms and autumn with the foliage.
Ponto-cho – Located near Gion, it is one of Kyoto's five geisha districts, and a traditional nightlife area. It is best visited in the evening to enjoy the traditional wooden buildings and hanging lanterns.
Ryoan-ji Temple – The temple was founded in 1450, and is home to one of Japan's most famous rock garden. Created as both a tool for meditation and as a work of art.
Sanjusangendo – A popular temple founded in 1164 by retired emperor Go-shirakawa. It is famous for its 1001 statues of Kannon (The Buddhist goddess of mercy).
Tenryu-ji Temple – A Zen temple in the Arashiyama area of Kyoto. Built in 1339 in memory of Emperor Godaigo on the site of his former villa. The main attraction is the beautiful 14th century Zen garden.
To-ji – This temple was established in 794 by imperial decree to protect the city of Kyoto. The five-storey pagoda is the tallest wooden tower in Japan and a popular symbol of Kyoto.
Two Day Itinerary for Kyoto
Day 1 Spend the day exploring the historic Higashiyama district. Start the day at Ginkaku-ji then take the Philosopher's Path to Nanzen-ji and Heian Jingu. Next visit To-ji, followed by the historic shopping streets of the Higashima distric. It is a short walk from here to Kiyomizu-dera. Spend the evening checking out Gion and Ponto-cho.
Day 2 Spend the day exploring the Arashiyama and Sagano area. Start at the Monkey Park followed by a visit to the famous Togetsukyo Bridge and main street. Next explore Tenryu-ji and then the Sagano Bamboo Grove. Last explore Daikaku-ji and if you have time head on over to Kinkaku-ji.