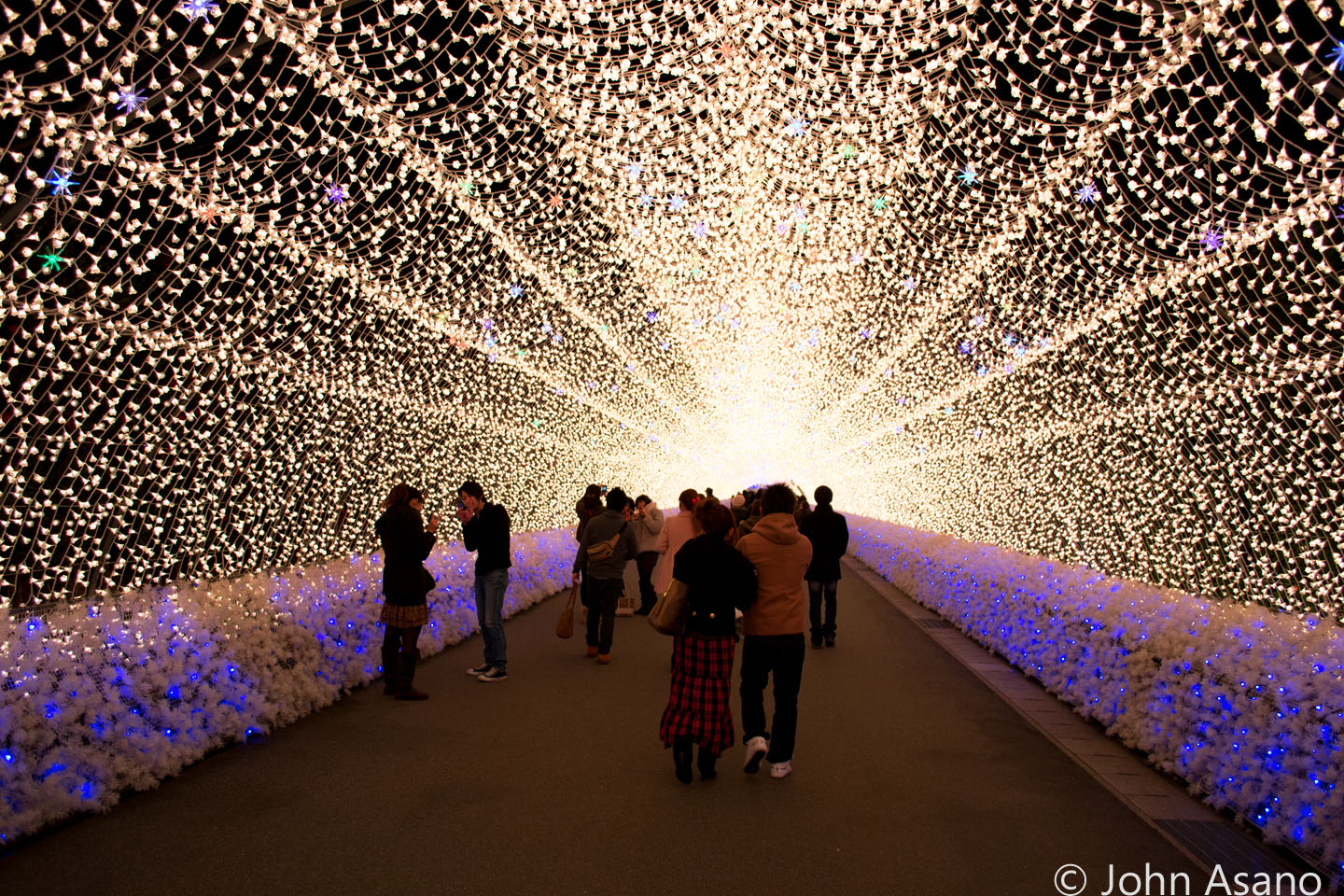 Winter illuminations in Japan 2017-2018
One of the highlights of winter in Japan is the spectacular winter illuminations which can be seen around the country. The illuminations typically start in late autumn and finish around the end of December with some even lasting until spring. Most are FREE and are definitely worth checking out if you are traveling in Japan during the winter months.
Some of the most popular and spectacular winter illuminations in Japan include:
Kobe Luminaire
Kobe Luminaire in Kobe City, Hyogo Prefecture is considered the original and most famous light festival in Japan. The illuminations run for ten days in December with the lights turned on for just a few hours each evening. The lights are truly spectacular with each one individually hand painted. They are designed to imitate the grandeur of Italian Renaissance architecture, with this year's gala highlighting Galleria Cooperta, (Covered Gallery), a 16 meter long covered corridor of lights that is a kaleidoscopic experience. Kobe Luminaire is held in memory of the victims of the Great Hanshin Earthquake of 1995. The iconic festival of lights started in 1995 with the hope to give courage and inspire the people of Kobe. It was such a success that it has continued as an annual event each year beautifully illuminating Kobe every winter. Kobe Luminaire will run from December 8-17.
When: December 8 to 17, 2017
Times: Monday to Thursday (6:00 pm – 9:30 pm)
Friday (6:00 pm – 10:00 pm
Saturday (5:00 pm – 10:00 pm)
Sunday (5:00 pm – 9:30 pm
Price: Free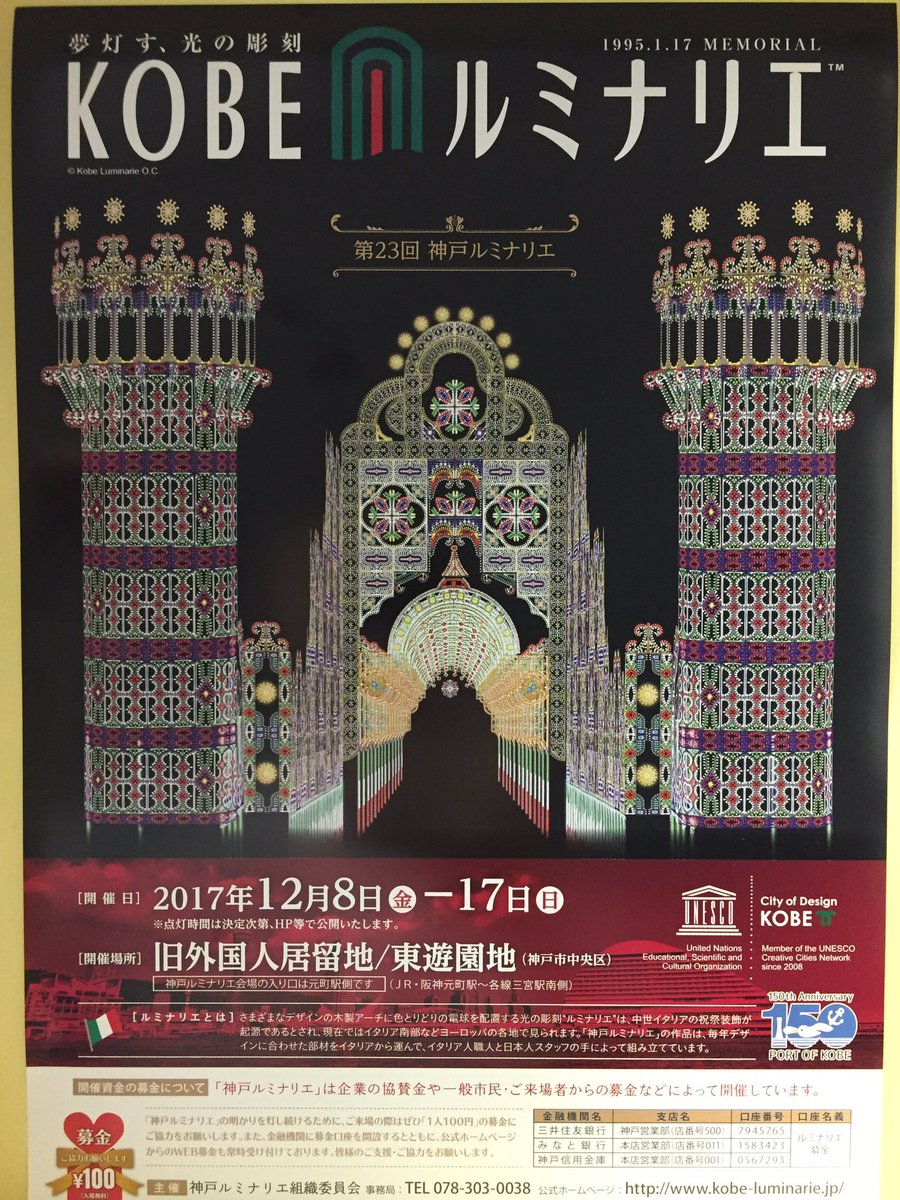 Nabana no Sato Winter Illumination
Nabana no Sato is a theme park dedicated to flowers located on the island of Nagashima in Kuwana City, Mie Prefecture. It is considered to be one of the largest and best winter illuminations in all of Japan and actually runs for more than 6 months from late October to early May. The flower park is covered in more than 8 million LED lights with the highlight being the spectacular light tunnel. There are various attractions including a huge field transformed into a sea of lights below an animated light show, light tunnels, and an observation deck that offers birds eye views of the lights from above. Last year's theme was "The Beauty of Mother Nature". This year's main theme is "Kumamoto", and features the famous Kumamoto Castle and mascot Kumamon.
When: October 14, 2017 to May 6, 2018
Times: 9:00 am – 9:00 pm (until 10:00 pm on weekends and holidays)
Price: Winter ¥2,300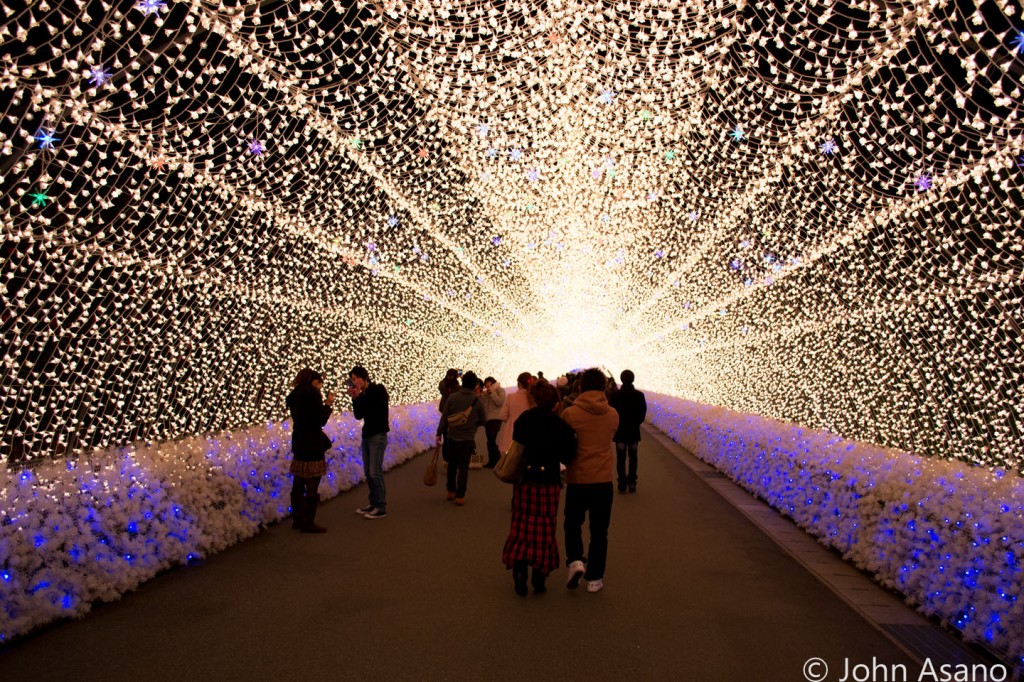 Shirakawa-go Winter Light-Up
Shirakawa-go is a historic collection of villages located deep in the mountains of Gifu Prefecture. It is a UNESCO World Heritage Site famous for its gassho zukuri houses with their unique steeply slanting thatched roofs that look like two hands joined in prayer. Shirakawa-go has been famous for many years now, but during the winter the village takes its beauty to an even higher level when all covered in snow. To enhance this experience even further for a few select Saturdays and Sundays in January and February it puts on a stunning winter illumination. The houses and surrounded grounds of the village are lit by spotlights which illuminate the snow-covered thatched roofs creating a picturesque winter wonderland straight out of a fairy tale.  The gassho zukuri houses are lit up individually from 5:30 pm to 7:30 pm, while the entire village is softly illuminated until around 8:00 pm.
When: January 21, 28, 2018 February 4, 12, 2018
Times: 5:30 pm – 8:00 pm
Price: Free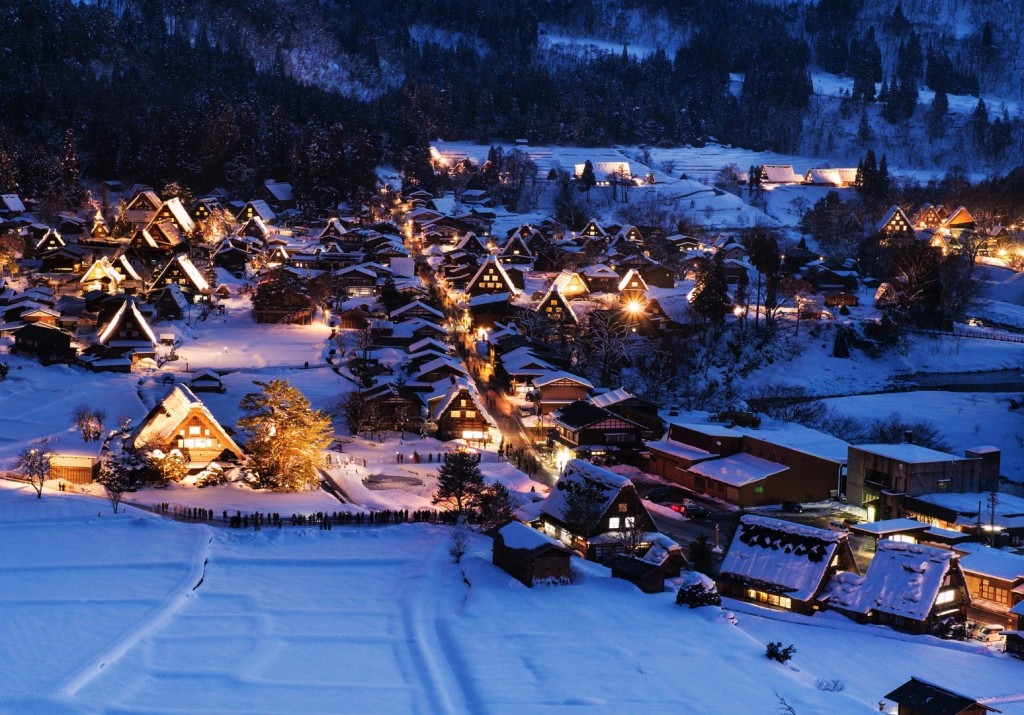 Kingdom of Light
The kingdom of light is a spectacular winter illumination at Huis Ten Bosch, a theme park that recreates a Dutch town in Nagasaki Prefecture. It creates a distinctly European atmosphere with its picturesque canals, iconic windmills, beautiful gardens and architecture. In winter, the theme park utilizes about 13 million lights to create spectacular scenery such as a tall LED waterfall, a light and fountain canal cruise and collaborations of light with flowers and music. It is the world's largest light display and one of the most popular illuminations in Japan.
When: October 28, 2017 to May 6, 2018
Times: 5:00 pm – 10:00 pm
Price: ¥4,000 (entry only) or ¥4,900 (entry and rides after 5 pm)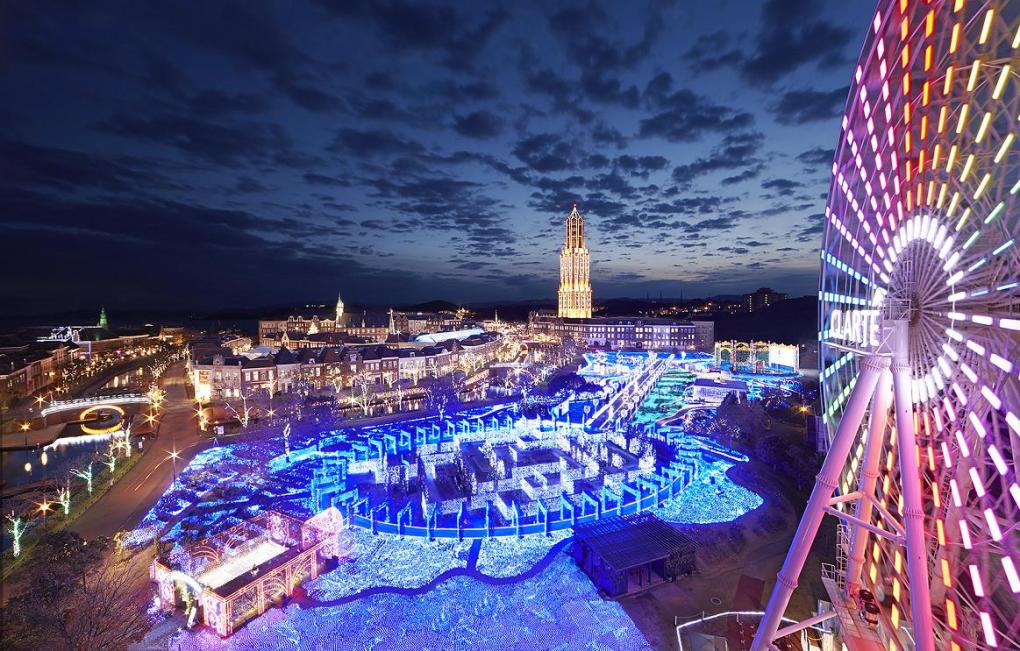 Image Source
138 Tower Park
138 Tower Park located in Ichinomiya City, Aichi Prefecture is regarded as one of the best public parks in Japan and features the tallest arch style tower in Asia. From mid-November to late-December the park is decorated with around 500,000 lights creating a spectacular winter illumination. The theme is "Merry Christmas from the Twin Arches". The spectacular dual arched tower at 138 meters high offers amazing views of the illuminations from above. Various events are also held such as a fireworks display, wreath-making workshops and baking classes.
When: mid-November, 2017 to late-December, 2017
Times: 5:00 pm – 9:00 pm
Price: ¥500 (entry to the tower)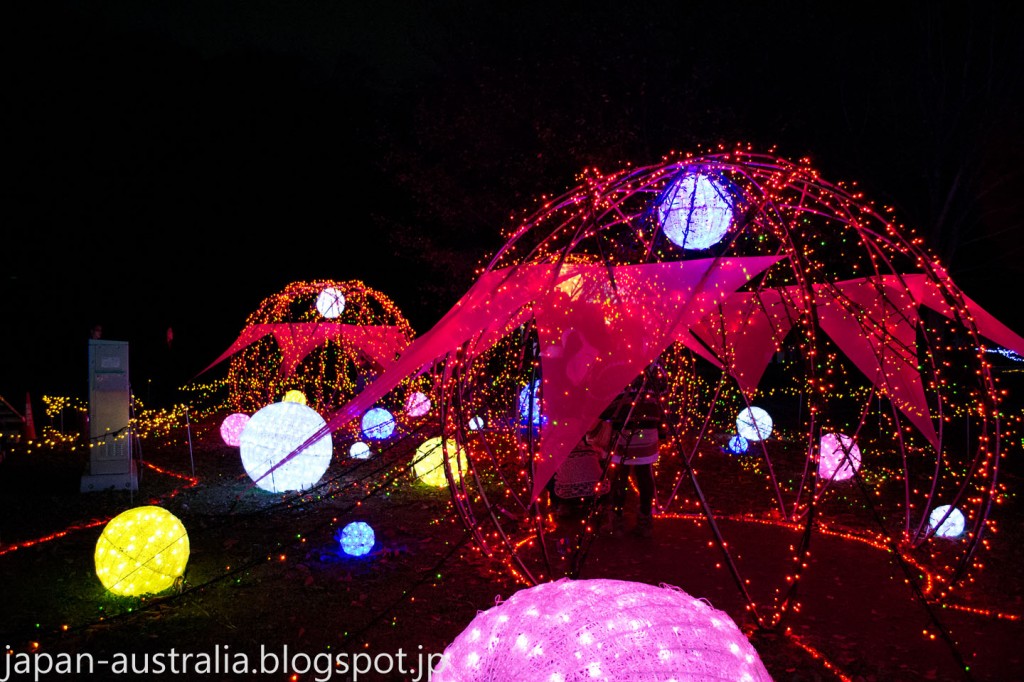 Winter illuminations in Tokyo
Tokyo has many beautiful winter illumination spots including the following:
Caretta Shiodome – fantastic annual illumination using 270,000 lights that create an ocean of blue LED lights several times each day, making it one of Tokyo's best.
When: November 16, 2017 to February 14, 2018
Times: 5:00 pm – 11:00 pm
Price: Free
Omotesando illumination – one of Tokyo's most popular illuminations with 500,000 LED lights along the length of the street from Harajuku Station to Omotesando Station lighting the area up in "champagne gold".
When: November 30, 2017 to December 25, 2017
Times: Sunset to 10:00 pm
Price: Free
Marunouchi Illuminations – a European-style Christmas light-up with the entire district lit with a million champagne-colored lights along Naka-dori street.
When: November 9, 2017 to February 18, 2018
Times: 5:30 pm to 11:00 pm (5:00 pm to 12:00 am in Dec)
Price: Free
Tokyo Dome City – 'Promenade of Light" themed on the night sky is one of Tokyo's best winter illuminations featuring over 2.2 million lights. This year will feature iconic Italian themes to celebrate 150 years of Japan-Italian relations.
When: November 9, 2017 to February 18, 2018
Times: 4:00 pm to 12:00 am
Price: Free
Tokyo Midtown – Midtown Christmas is one of the most popular displays in Tokyo and features multiple illuminations around the Midtown complex including the 'Starlight Garden' with 280,000 LED lights.
When: November 15, 2017 to December 25, 2017
Times: 5:00 pm to 11:00 pm
Price: Free