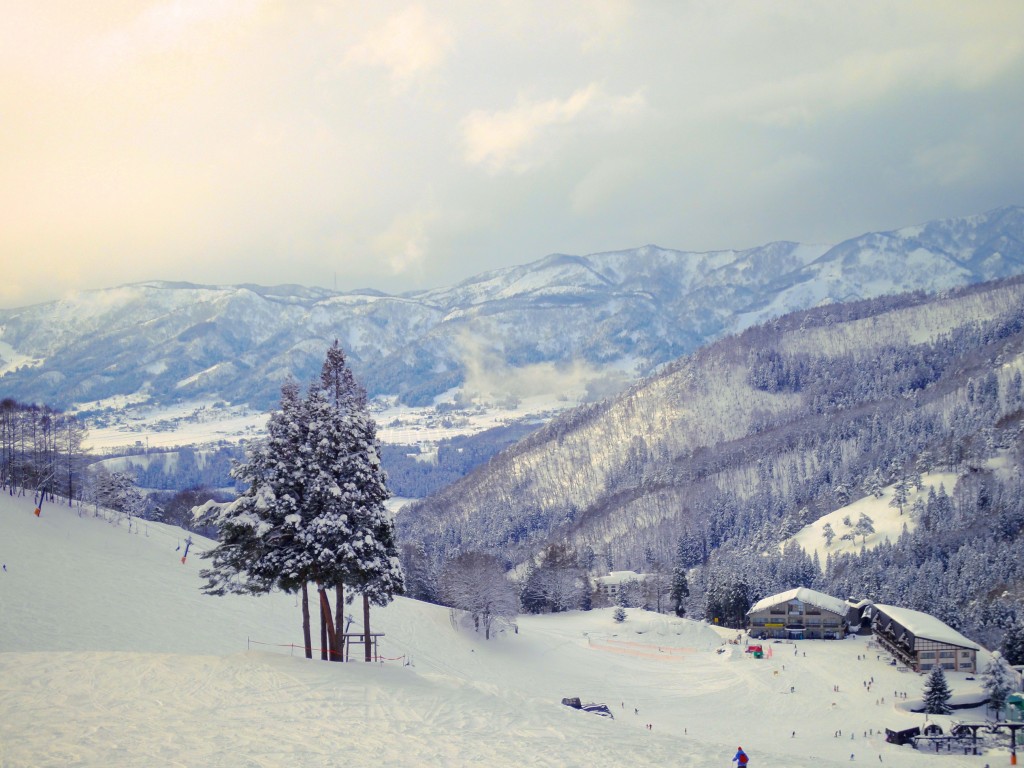 Skiing and Snowboarding in Japan
Japan has some of the best skiing and snowboarding in the world with soft powder snow and a huge number of resorts offering diverse attractions.
There are more than 600 ski resorts across the country with the ski season officially starting in December and lasting into early May in many places. The best months for skiing and snowboarding are typically January and February which offer the best conditions. One of the great pleasures of a Japan ski holiday is soaking in an onsen (hot spring) after a full day on the slopes.
The three main areas for skiing/snowboarding in Japan are Nagano in the picturesque Japan Alps on the main island of Honshu, the northern island of Hokkaido with Siberian-blasted highlands, and Niigata also on the main island of Honshu on the Sea of Japan coast.
Skiing and Snowboarding in Nagano
Nagano is only a short two-hour bullet train ride from the capital Tokyo, and offers some of the best resorts for skiing and snowboarding in Japan. It is a fabulous place to ski or snowboard with many modern facilities due to hosting the 1998 Winter Olympics. One of the best areas is the Hakuba Valley with its snow laden peaks and valleys and seven different ski resorts. Hakuba with its European feel has deep winter snow falls and plenty of soft powder snow to enjoy. A favourite in Hakuba is the Happo One ski resort which offers excellent mountain views and runs for beginners, intermediate and advanced skiers and snowboarders.
Hakuba Happo One Winter Resort
Another favourite is Shiga Kogen, which is one of the largest ski resorts in the world. It hosted several events at the 1998 Nagano Olympics, and has 21 linked areas with a variety of terrain to suit all styles and types of skiers and snowboarders. Make sure you also check out the Jigokudani Snow Monkey Park located close by, where you can watch wild snow monkeys soaking in the hot springs.
Nozawa Onsen is a traditional village for those looking for that authentic cultural experience in Japan. It offers great skiing and snowboarding along with some pretty cool onsen (hot springs). It is also one of the largest ski resorts in Japan with 24 lifts and 50 km of terrain. The snow season in Nagano runs from December to early April.
Skiing and Snowboarding in Hokkaido
Hokkaido was also a Winter Olympic venue in 1972 and is about a 90 minute flight from Tokyo. Sapporo is the cosmopolitan main city of Hokkaido and offers several ski resorts. The best and most well-known ski resort in Hokkaido is Niseko which can be reached either by bus or train from Sapporo. Niseko is exactly what you would expect a Japanese ski village to be, a blend of traditional Japanese houses and environment with modern touches such as traffic lights, apartments and hotels. The skiing in Niseko is first class, featuring great accommodation, deep snow, long runs and soft powder snow. The Niseko ski area typically receives around 15 meters of snow every year, so you know you are in for a good time here.
Another popular ski resort is Furano which has hosted several FIS World Cup events in recent years. It has excellent terrain with around 9 meters of snow a season. Furano is the perfect spot for families or those looking for well-groomed runs and high-speed lifts. Other well-known ski resorts in Hokkaido include Moiwa, Rusutsu, and Kiroro. The snow season in Hokkaido runs from November to early April.
Skiing and Snowboarding in Niigata
Niigata is located on the Sea of Japan coast in the Chubu region of central Japan just over 2 hours away from Tokyo. Niigata offers over 50 top quality ski resorts with excellent skiing and snowboarding conditions. The majority of the resorts are located in the Myoko or Yuzawa area of the prefecture. Myoko Kogen has 9 resorts and is less crowded and more laid back than other popular resorts in Japan. The Myoko Suginohara resort has the longest run in Japan at 8.5 km.
Another popular area is the Naeba Ski Resort in Yuzawa with 27 courses of varying skill level. It is only a 80 minute train ride away from Tokyo and is very popular due to its long snow season. Niigata offers great snow conditions as well as rotenburo (outdoor onsen), great tasting sake and festivals. The snow season in Niigata runs from November to May.
General Prices in Japan
Prices will vary from resort to resort and from region to region, but here is a general guide to give you an estimate of what you can expect to pay.
Lift passes usually range in price from 4000 yen (USD$40) to 5500 yen (USD$55) a day.
Ski gear and clothing can be hired at most resorts at a very reasonable price.
Full equipment rental might cost you around 5000 yen (USD$50) a day.
Tips for Japan
January is typically the peak season, so if you want to save money and beat the crowds, visit in mid to late December or March.
Bring decent thermals and winter clothes to fight off the cold.
Japan is a cash based society with ATM few and far between and credit cards not readily accepted.